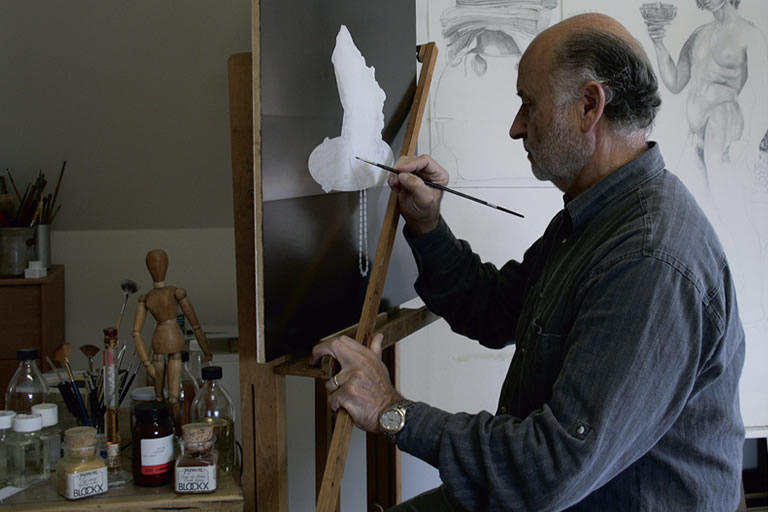 GUY DE JAEGHER
Hyper-realistic painter
Guy De Jaegher (1944, Kortrijk) has been aptly defined as a foremost contemporary fine painter, with a focus on object naturalism and known for his meticulous traditional craftmanship and magnificent still lifes.
In his youth he attended the Royal Academy of Fine Arts in his native Courtrai and studied graphic arts and calligraphy at the famous Saint Luke's Institute in Tournai.
Still lifes
His still lifes slowly flourished to premier quality, after years of painstaking study of the Flemish Primitives' rich legacy. His paintings, indebted to Flanders' late medieval masters and their command of time, display a persevered learning process and a bedazzling rendering of space, materials and texture. De Jaegher's paradigmatic masters are mostly painters of the early Northern Renaissance, next to famous Dutch fine painters of the Golden Age.
Virtuoso at oil on panel
Today, De Jaegher has become a virtuoso at oil on panel, but he also excels in glass painting – oil applied on the backside of a glass plate. De Jaegher's paintings in oils are all made on panel grounded with several gesso layers.
Details matter
A carefully detailed underdrawing runs throughout the composition which is applied in multiple layers of transparent paint to produce the deep, glowing hues and darks which typified his work; the top layer features a smooth glaze without any traces of brushstrokes – a most delightful lustre.
Timely timelessness
Loathing speediness and immediacy, De Jaegher's great technique creates a paradoxical feeling of timely timelessness. Moreover, it enables him to circumvent the danger of overwhelming the content of the painting and obscuring its deeper meaning. With a rare empathy for the singular object, he delineates it in a precise yet never excessive light that gently strokes it, in a subdued dramatised way.
In his peerless examples of still lifes colour, atmosphere and ambiance are qualities as important as the meticulous rendering of materials' minutest details, to be enjoyed with a magnifying glass.
---
Frans Boenders
Belgian philosopher, writer, poet, art critic
Member of the AICA, Honorary President of the Koninklijke Academie van Belgïe voor Wetenschappen en Kunsten. www.kvab.be